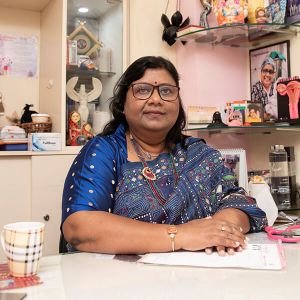 MBBS | MS - Obstetrics & Gynaecology | Diploma in Advanced Endoscopic Gynae Surgery
Name: Dr. Indrani Lodh
Contact No.: +91-9830175415
Email:drindranilodh4@gmail.com
Clinic Address: Urvaraa IVF, 40/1A Hazra Road, Kolkata 700019.
Dr. Indrani Lodh is a Consultant Gynaecologist, specializing in IVF, IUI, OBGYN, Infertility , Laproscopy&Hystercopy. She has over 30 years of experience & is practising in leading hospitals & nursing homes of Kolkata – Apollo Multispeciality Hospital Kolkata, Manipal Hospital, Bhagirathi Neotia Woman & Child Care Centre, Woodlands, Bellevue & Dewan Medical Centre. She excels in advanced laparoscopic techniques like laparoscopic hysterectomy, ovarian cystectomy, endometriosis ablation for infertility treatment, and other fertility related issues.
Graduated from Calcutta Medical College (MBBS) , Dr Lodh is one of the best Gynaecologists of the Country.  Receiver of awards such as " President's Award for the Best Lady Medical Graduate" and winner of 17 medals & scholarships during the MBBS course in Medical College ,she was also the Gold medallist & topper of her batch in MS OBGYN in Medical College, Indore. She holds a diploma in pelvic endoscopic surgery from Kiel, Germany. Her expert hand in minimal invasive procedures for treatment of heavy bleeding such as transcervical resection of endometrium, hysteroscopic resection of fibroids & endometrial ablation, is par excellence. During her tenure as a registrar in different U K Hospitals she worked in busy obstetric units with more than 5000 annual deliveries, dealt with medium to high risk pregnancies effectively,& has solved innumerable fertility issues. Having trained & practised for so long, she now has her own clinic–URVARAA ( meaning "fertile ")  , which is a one stop solution for all women for all their feminine issues. Dr Lodh's aim is to provide the best diagnostics & solutions in her field, under her strict supervision.
Educational Qualifications:
"Urvaraa IVF" and "Umang Clinic for women" is a one stop women's clinic and a Centre for Women Care & Research in South Kolkata. It is a "state of the art" women's clinic, test tube baby centre and advanced laparoscopy and hysteroscopy centre with world class day care facilities. It is a clinic which provides total gynae, fertility, maternity, endoscopy solutions under one roof in one single floor. It is equipped with all modern facilities for maternal and child health and family welfare and ART (Assisted reproductive techniques).It will be recognized for training of Doctors, Nurses and Health Workers. Centre for Advanced Laparoscopic Gyn. Surgery & Assisted Reproduction Technology.
Professional Positions Held:
Lectures & Papers Presented:
Presented invited lectures at many CMEs in local state and national levels in Kolkata and various parts of West Bengal. Also in Varanasi, Delhi, Lucknow, Mumbai, Hyderabad, Patna, Guwahati, Agartala, Silchar, Puri, Bhubaneshwar, Jabalpur, Bhopal, Indore, Nagpur, Goa, Ahmedabad.
Membership of Professional Bodies(Indian)
Memberships of Foreign Professional Bodies